12.05.92 and 12.05.11 was a fantastic day. and every december fifth in between has also been fabulous.
i would feel weird doing a self-absorbed post of myself (oh, wait, i do all the time...) but just to record for history sake, i want to remember why it was so memorable, and say a loving and forever THANK YOU for everyone who helped make my birthday special, and made me feel love, and most of all for those who have helped shaped me these past 19, and most of all to my mother who was willing to have children and sacrifice so much of herself to raise me and bring me into this world. Thank You doesn't even touch the surface of the love and admiration I have for my mother and father. So....thank you.
Sunday night: I was able to have Lynette & Jennie (our 2nd cousin) Lewis over for dinner, and then we watched the First Presidency Christmas Devotional together. It was bliss to hang out with them. I made them my birthday dinner including my favorite items of food: couscous salad with chips (easier version of cafe rio), sweet potato fries, chicken and a green salad. my roommate Hannah brought this tree and decor, and we had a blast setting it up. we danced to christmas music and hung lights on our window.
christmas is magical.
Jennie brought hot chocolate, and I made an apple pie, because lets be real here, who actually likes cake?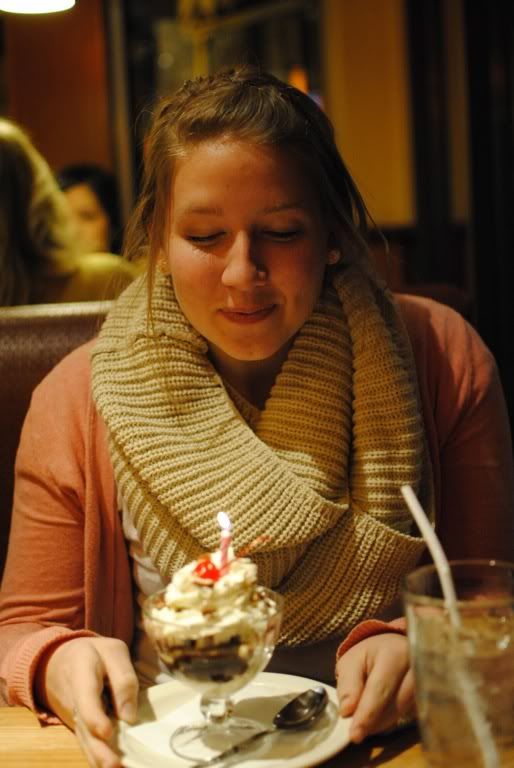 monday, the fifth. was absolute bliss. roommates gave me rides to and from school which is a beautiful thing when the weather is 15 degrees. my friend announced my birthday in my new testament class, entirely against my will, and turns out it was my professors birthday too. (and this isn't just any professor, this my absolute favorite religion professor that i had for Book of Mormon and he's helping me prep for the seminary program).
conner, my friend since we were 6mo. old, brought me hot chocolate and a donut to anthropology, which was just splendid, since i didn't have time for breakfast that morning.
someone offered to work for me, which was just a wonderful break. I studied for most of the day in the library and then cousin Harrison took me to the cannon center for lunch. I went back to the library for more studying, and once i start falling asleep at the computer, i decided to walk home, and Gemma picked me as she saw me walking.
i came home to a package from my favorite family in Washington, the Vances. I almost just cried looking at the box, but then i opened it and of course my heart melted with the sweet inside joke items and a few darling decorated cards by my neices and nephews. my favorite was from bryson. it was completely blank and on the inside said: love, bryson. precious :)
i also got a sweet card from my mom and dad! Thanks so much again for the Thomas S. Monson book. I love love love it!
my favorite part of the day was when my siblings called and left messages of their kids singing happy birthday. it was the best. thanks for thinking of me fam!
my roommates were so kind to take me out to dinner that night to California Pizza Kitchen. It was delicious. And free ice cream sundae is a plus always a plus!
then we came home, and i thought i was having the best birthday ever, until i walked in and there were surprise guests waiting for me. i'm pretty sure my pulse has calmed since then, but i was so surprised. i'm quite certain that my brother Crismon and I are the most oblivious people on this earth.
that was so sweet of them. they put up streamers, ballons, signs, and made brownies (my favorite).
cousin Harrison, summer roommates Sami, Amber (and Sara dropped by later), cousin Lynette, and friends Jorgen and Craig.
the 19th most valuable wish of my life. (do you see the M&M's spelling Emily? Lynette is the best!)
I seriously was overwhelmed by all the love and kindness everyone gave to me. It seriously was one of the best birthdays ever. I am so lucky to have such great friends and family who care so much about me. I am so grateful to be here--and to celebrate life on earth!
thank you again.
have the happiest of day, everyday.