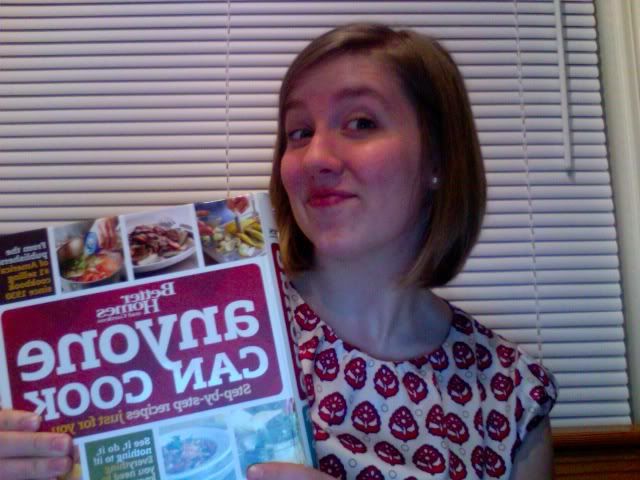 ....you are really excited for college when your cookbook comes in the mail!
Especially, for a girl that can't cook.
I was so excited, I even slept with it last night.
Call me crazy....but I'm stoked.
And ....my backpack JUST came in the mail too!
No more embarrassing moments with my backpack from now on.
And, the novelty of everything is that is is...NEW.
NEW. NEW. NEW.
A rare luxury that doesn't happen often around these parts, since my family is all about reduce, reuse, recycle. If you don't understand, I'll help you out.
Problem: First grade, i needed new shoes since the hand-me-down pairs where falling apart. Solution: Dad used copious amounts of shoe glue and duct tape.
Problem: Hand me down jeans were way too long on my short legs in elem. school.
Solution: Mom pinning them with safety pins as I'm eating breakfast.
Problem: Not enough cups, bowls for family
Solution: use yogurt containers as cups
Problem: Doing dishes, putting away food after dinner, you would think through something away if there's only a small amount left....WRONG.
Solution: Mother saving every scrap of uneaten food. One day I'll understand.
Problem: Not enough diapers for children growing up...with 9 children, thats expected
Solution: wrap them in newspapers, there was more than enough to go around...
our family a living newspaper reading machine.
The Lewis Family is the reason why Recycling is a law in Oregon.
just sayin...